Rielli Automatic filters, softeners, and demineralizes are classic systems used to treat raw water for various purposes. These systems are used to purify the water from deposits of up to 20 microns (Multimedia filters), eliminate taste, odor, chlorine, and organics inside the water (Active Carbon Filters), descale and soften the water (Cabinet Water Softening Unit) and remove all ions (demineralized).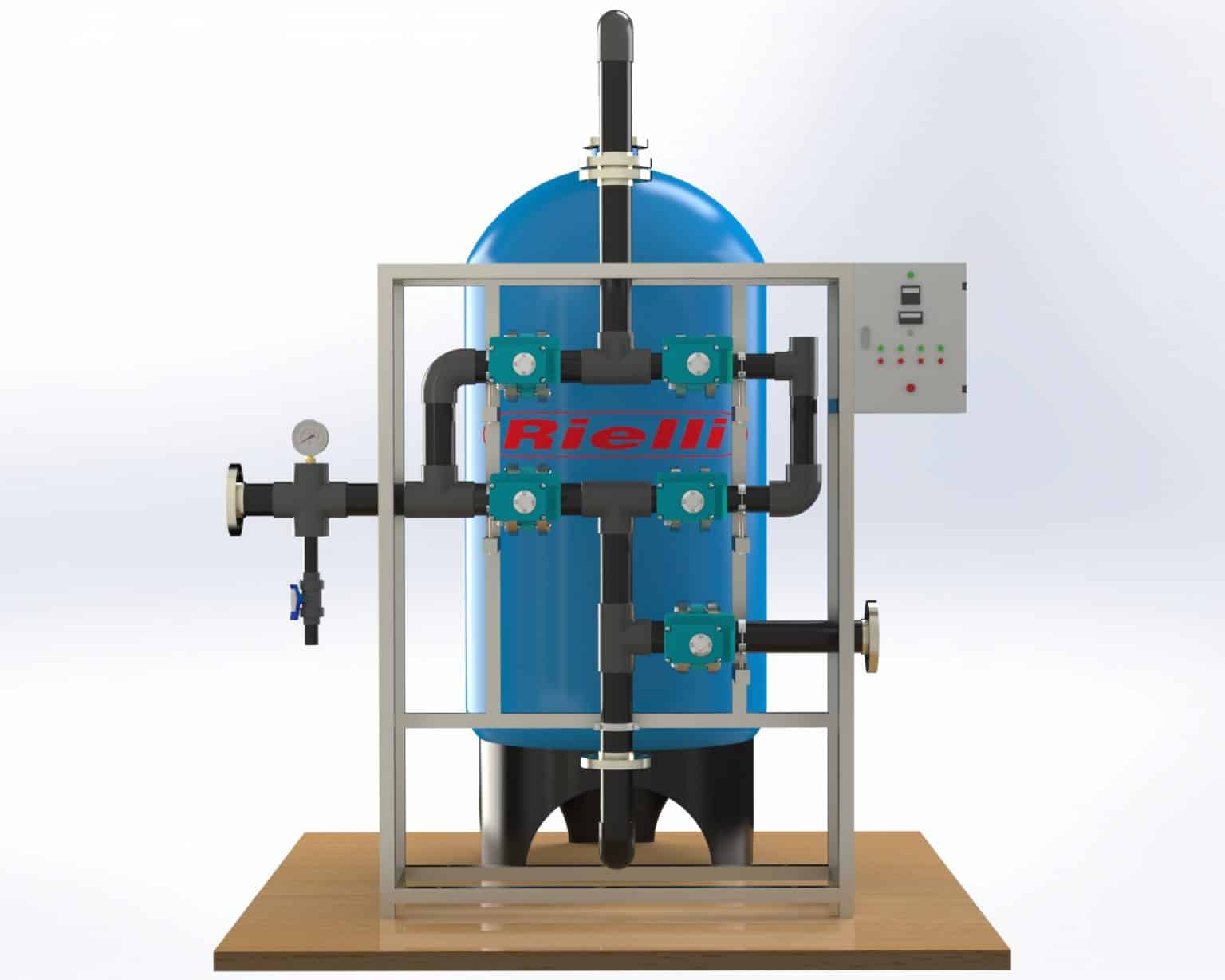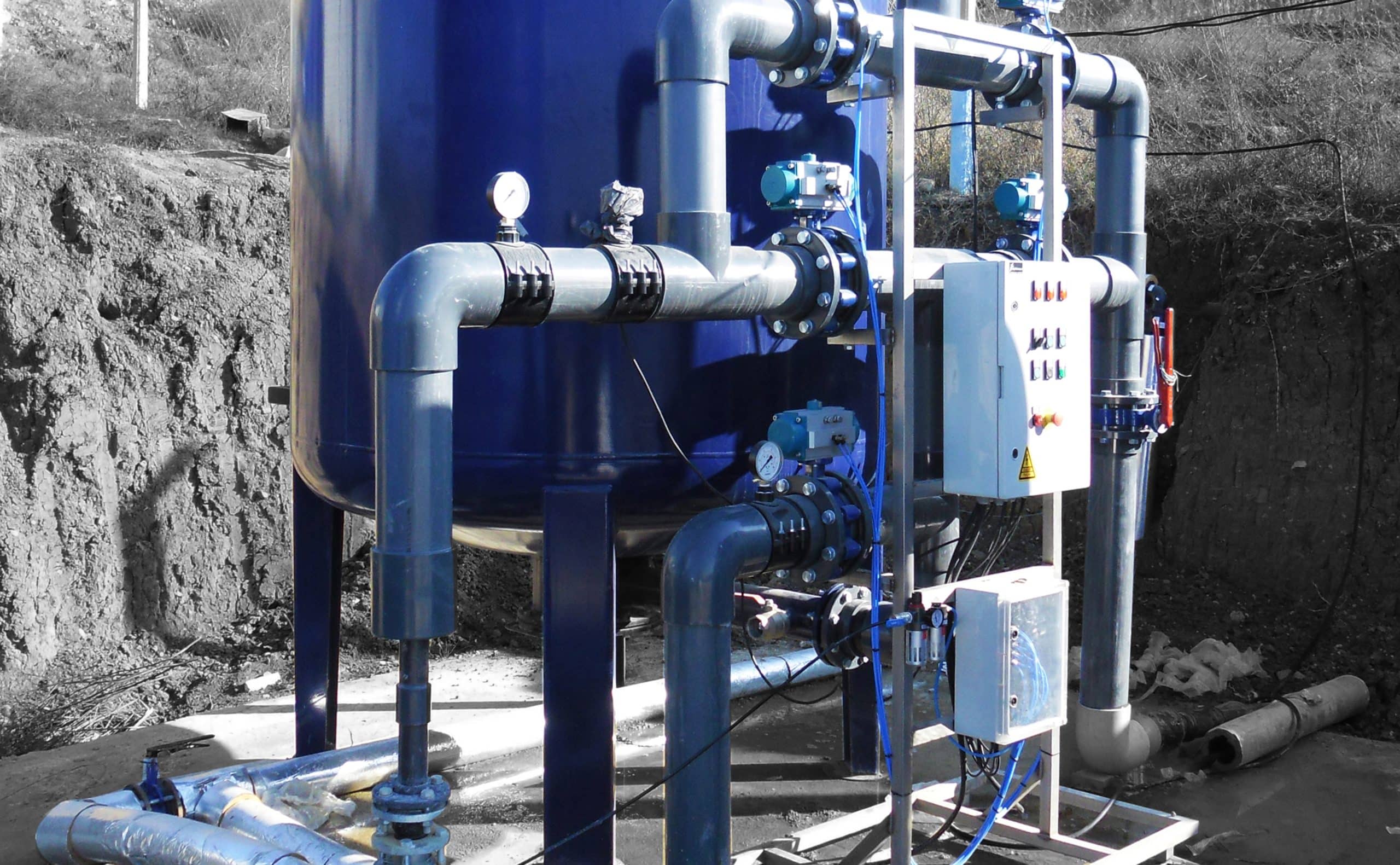 Competitive prices increase your competitive power
We purchase each component that we use in the production of Rielli filtering and softening systems directly from the manufacturers. As a matter of our production capacity, we purchase large volumes of components, which decreases our cost and, thus increases your competitive power. We manufacture our products cost-efficiently and productively without compromising our quality and occupational safety. Our business model enables you to save money when purchasing our products and forms a part of our policy to increase the competitiveness of our partners.
Manufactured at higher quality standards
As a result of many quality control and compatibility tests during the entire process of production from the raw materials to the finished products, in particular, at the integration stage. Rielli filtering and softening systems are manufactured with perfection to match our high-quality standards.
Activated carbon filters are used to eliminate odor, taste, and color problems caused by organic pollution; It helps water purification by filtering out chlorine and organic substances.
The activated carbon filter is generally produced on the basis of coal or coconut and used in granule and powder form according to its purpose, in water purification and purification processes. Activated carbon filtration, which is a necessary purification step in the purification of odor and organic components, is one of the main actors of water treatment systems such as sand filters.
As with the sand filter, an automatic valve system is used in the activated carbon filter. In the automatic valve system; The activated carbon filter cleans itself at pre-programmed times without the need for human intervention.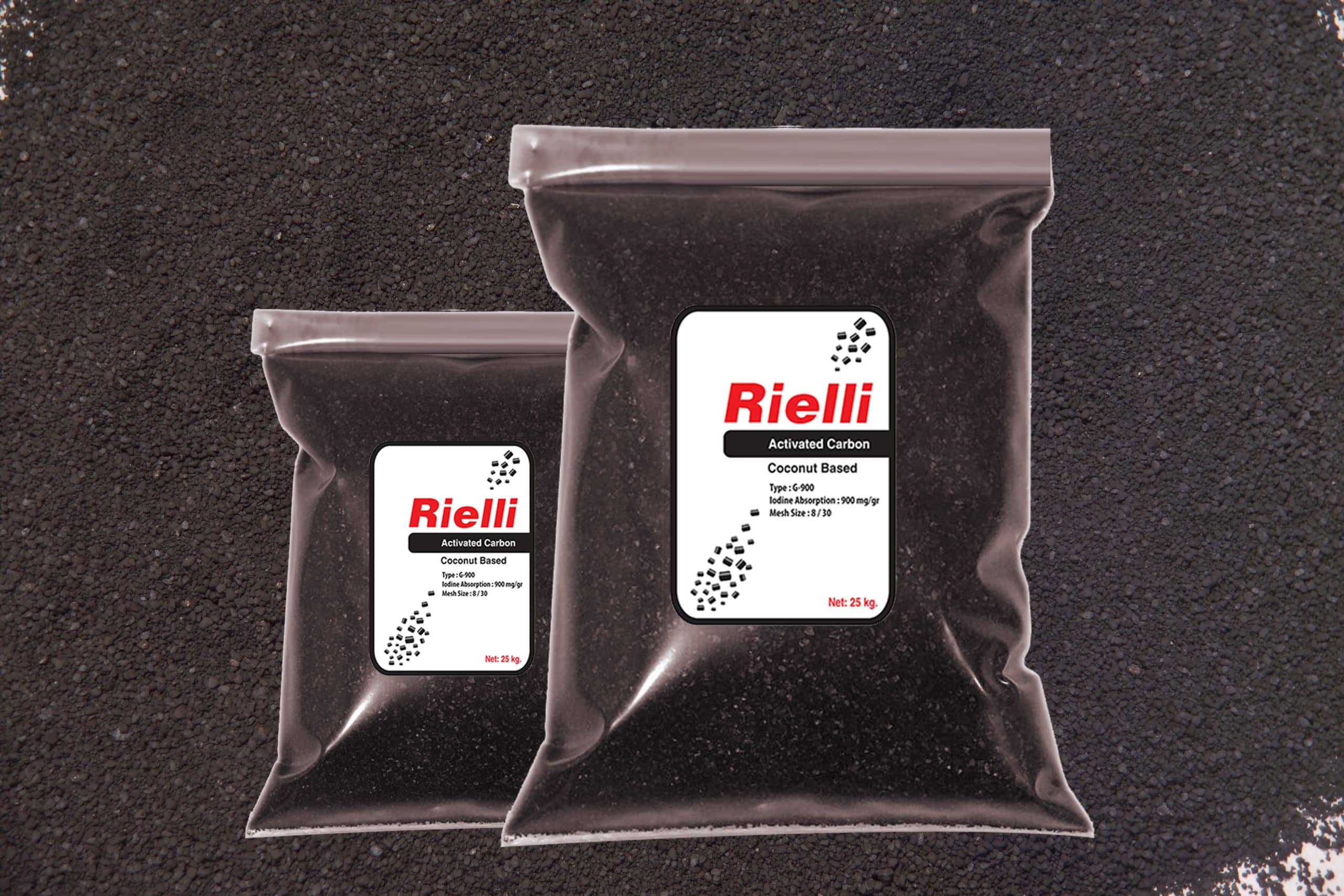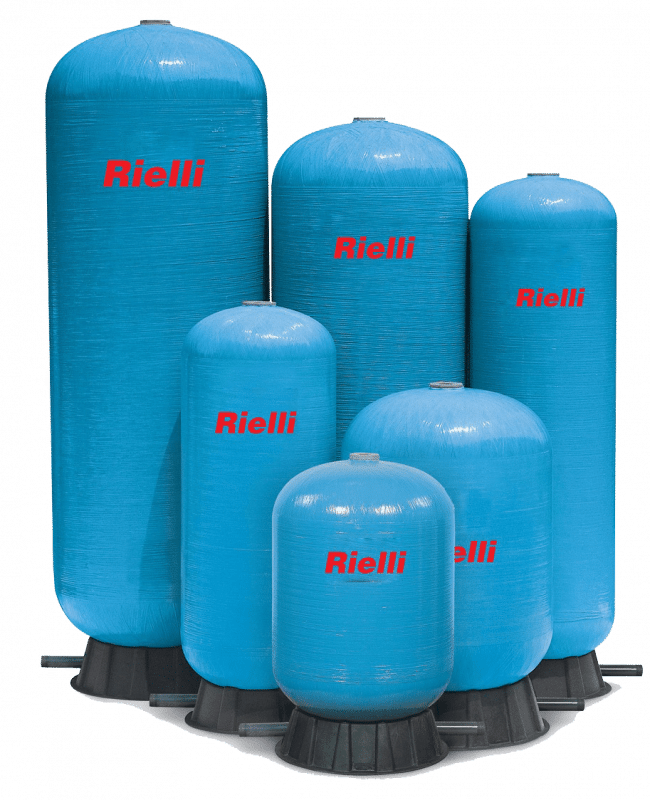 In the filtration method called sand filter or multimedia filter, solid materials such as suspended sediment and sludge that cause turbidity in water are retained by the filter filler. The filter sand of different sizes in the filter tank provides excellent filtration thanks to its high sediment-holding feature.
In water treatment systems, a properly selected sand filter significantly increases the efficiency of the treatment. It reduces the load of the following systems. This increases the efficiency of the water treatment system as a whole. Service life is extended. Total service mail is reduced.
For this reason, it is important to choose the right multimedia filter and operate it effectively in order to operate the further stages of a treatment system efficiently. Although a multimedia filter or sand filter may seem like a simple piece of equipment, due to its importance, the correct selection and operation of this equipment in the system are vital for subsequent equipment.
We manufacture most of our Rielli filtering and softening systems based on special project designs. We keep almost all the components at stock in a way that they are ready for production. So we deliver Rielli systems within the shortest period of time, almost instantly after the order. Thanks to our flexible and large production capacity, advanced logistics facilities and manufacturing technologies, we are capable of meeting the extremely short deadline requests that you may come from our clients.
Each Rielli UF plant comes with a user manual specially prepared for the respective project. Our technical team provides user training after the installation and issues certifications upon the successful completion of training. Using follow-up tables, online monitoring and after sales services we guarantee the lifetime proper operation of our plants as per your needs and expectations. Our assembly team and after sales technicians are at your service for your Rielli equipment wherever it is installed throughout the world: whether in a remote village of Ethiopia or in a holiday hotel of the Philippines.
We know how to use the traditions and the developments in harmony when manufacturing Rielli softeners and filters. Our staff of engineers are our fellows who have been with us during the most of our journey to success. Thanks to these great technicians and engineers combining their experience in our company, with their knowledge and skills and, our long-term partner Litree, a world leading manufacturer of membranes, for more than ten years, we are capable of designing and manufacturing the most optional ultrafiltration plants in terms of investment and operating costs.
Corporate experience behind each Rielli system manufactured is more than a quarter of a century, but the experience behind the brand Rielli is based on the tradition of a family which has been in the production business since 1955.
An investment that pays off itself from the day one thanks to financing opportunities specially designed for you
Financial facts and figures are presented on the first page of every Rielli system offer. So potential clients can see on the first page the financial advantages of owning a Rielli plant. The initial investment cost, operating cost, return on investment periods, and many other related data are presented in detail. Your investment can positively contribute to your cash flow thanks to the options of purchase or rental of the equipment or purchase of the water produced making use of the financial possibilities that we can bring you.
Since we get all the components we use in the production of our systems directly from the world's leading manufacturers, we are always capable of offering you the latest technologies
Our long-time existence in the market enables our relationship of several years with the world's leading component manufacturers. As a result of these relations, we can get all components that we use in our plants directly from their manufacturers. This includes our relation with the world's leading manufacturers of components, as well as being supplied equipment and minerals custom produced for us under the Rielli brand. This approach is not only based on a cost-efficiency focus as may be seen at first sight. Thanks to the cooperation from manufacturer to manufacturer, it also allows us to be the first one to offer our partner the latest technology in reverse osmosis.
Most of our technicians and engineers have been working for our company for many years
We are not only preferred by our customers but also by our employees, which allows us to have a well-established corporate culture with a technical experience of decades focusing on quality and productivity. Would you too like to be a part of this experience?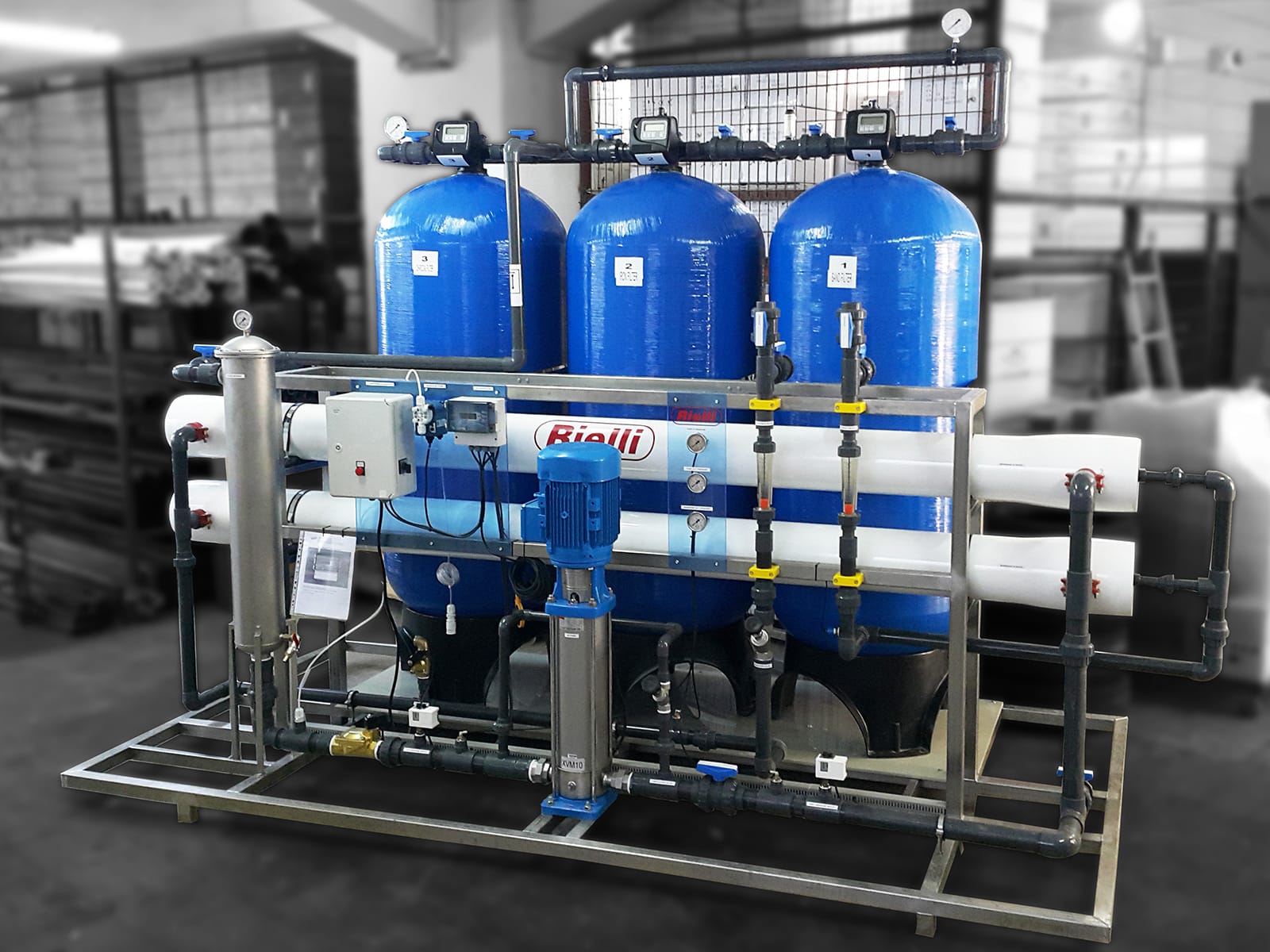 Rielli Softening Systems Advantages
Less backwash water
Each automatic filter in a filtering or softening system wastes about 5% of the daily water produced during the backwash process. With the special options chosen, Rielli plants recover 99% of this wasted backwash water.
Our plants can also be purchased with options that consume less salt. With the special options chosen, Rielli water softeners consume less salt by 20% compared to conventional softeners.
Less footprint.
When purchased with a special valve system, Rielli systems occupy less footprint in the plant room when compared to a conventional system. Despite this, Rielli plants provide the same filtration surface area.
Much more economic yet same efficiency in Duty + Standby.
In case of a system design that requires a duty and standby configuration to ensure uninterrupted production, Our Rielli option provides savings of up to 40% in the investment costs, thanks to its special technology. Despite this, the operating cost is the same as a conventional system or less.
You can contact us by using the form below for special solutions for your needs.