In addition to all the advantages of known MBBRs, Rielli MBBR facilities enable the establishment of highly efficient facilities by using a quarter of a standard MBBR thanks to the special chips with 5500 m2/m3 active surface area used in its design. By containing more biomass in the same volume with its high surface area, it allows high efficiency operation in reactors with a very small 25% volume compared to its peers.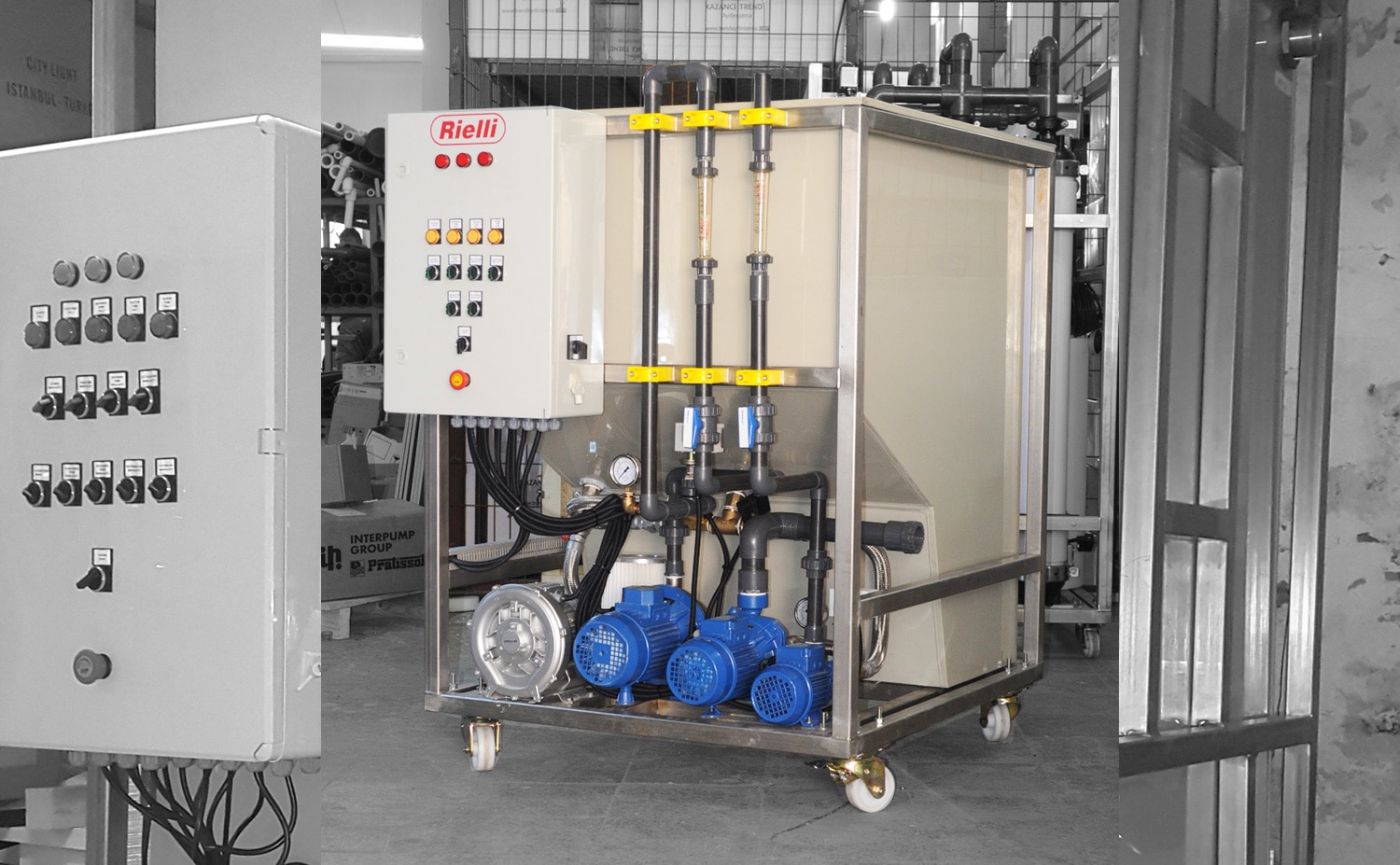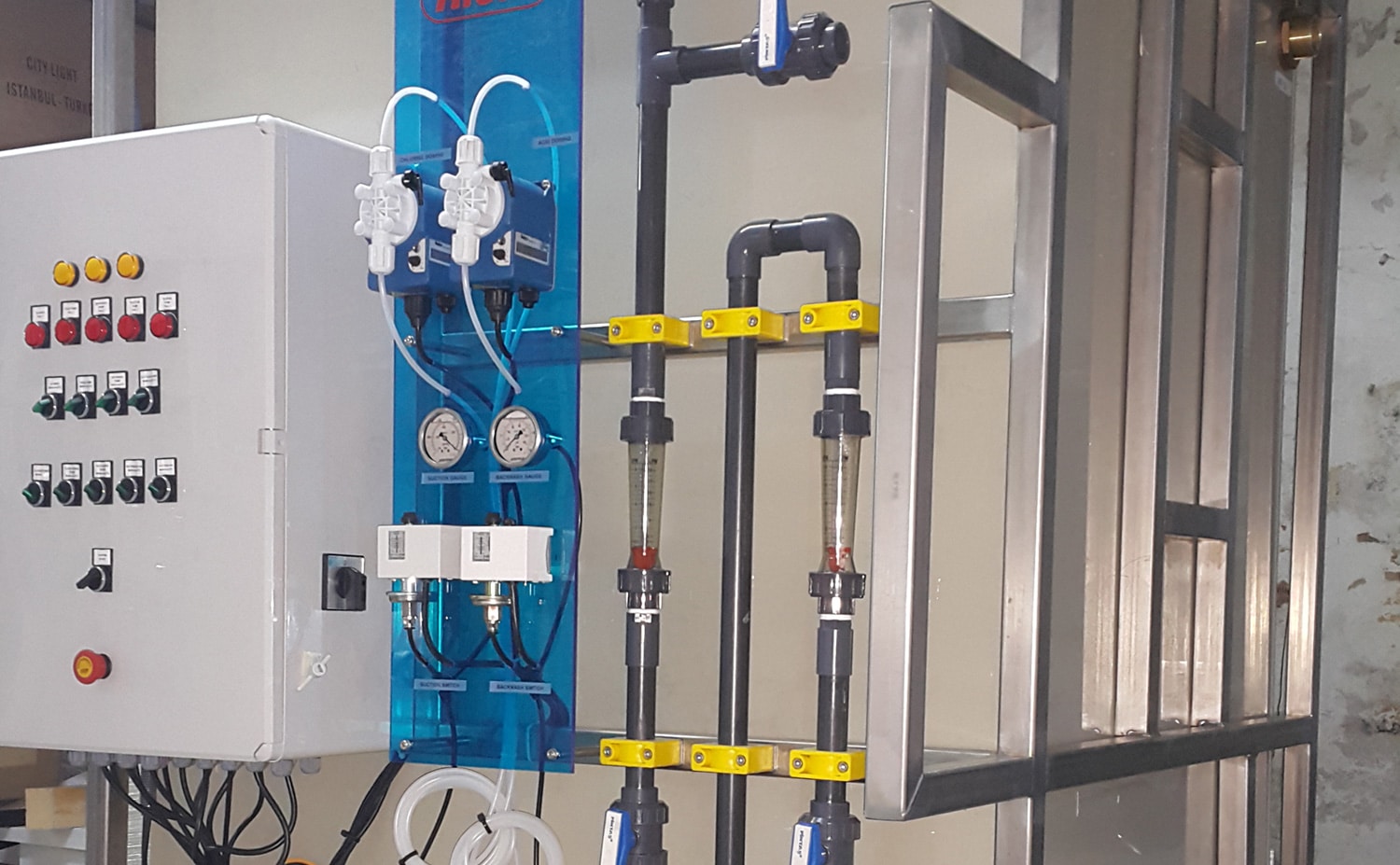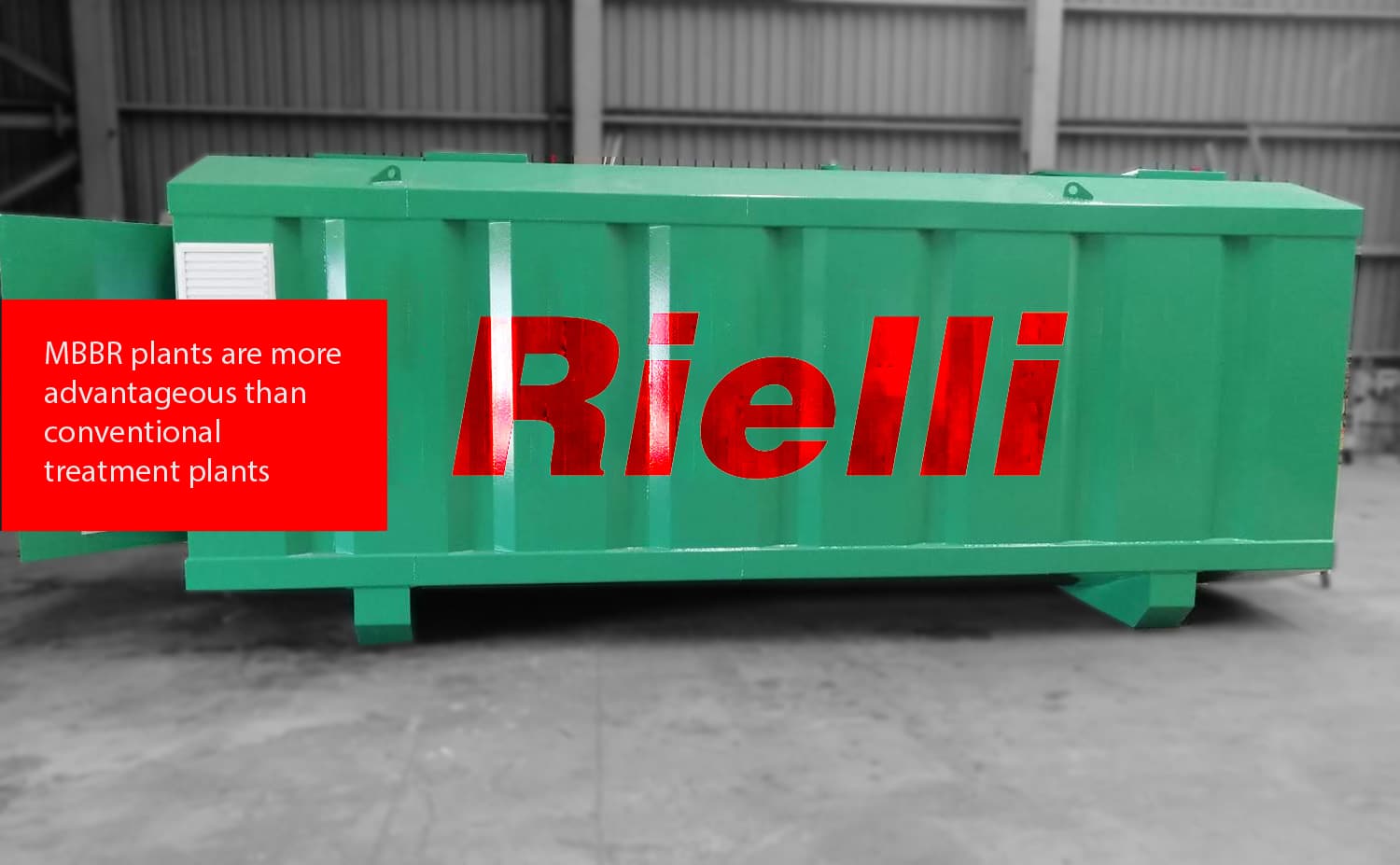 In MBBR, unlike MBR, mobile chips are used.
MBBR (moving bed bioreactor), which can be used in domestic and industrial wastewater systems, can be applied to the existing system to increase capacity without establishing a new facility; It is a system installed using thousands of polyethylene biofilm carrier chips in motion added to the treatment tank business.
High bacterial concentration is achieved with these biochips with high surface area. In this way, the biological treatment capacity is increased. The fact that it takes up less space than conventional systems and does not need an additional tank can be seen as the most important advantage it offers for facilities that do not have a large facility area but want to increase their capacity.
MBBR plants are more advantageous than conventional treatment plants.
The advantages of MBBR, which can be positioned between the MBR (membrane bioreactor) system, which is considered a state-of-the-art product for wastewater treatment plants, and conventional systems in terms of technology, are as follows;
It has a simple operating system.
It is easier to operate and requires less maintenance than MBRs.
Provides space and cost savings as it can be installed without an extra tank,
Initial investment costs are very low.
Microorganisms on biochips are flexible as they respond quickly to changing loads,
It requires little maintenance; Apart from low investment costs, maintenance costs are also very low.
It allows the capacity to be increased easily.
It provides stable nitrification despite low sludge oil and heat.
It provides ideal purification with high efficiency.
With all these factors, although its efficiency is not as good as MBR, it is the ideal solution for those who need a highly efficient and easy facility that can tolerate operating errors in a smaller area than a conventional facility.
We design and manufacture most of the Rielli facilities specifically for your orders. We keep most equipment in stock ready for production or, as we work directly with the manufacturers, we can custom supply them in a very short timeframe and deliver your device to you as soon as possible. With our high capacity, advanced logistics facilities, and production technology, we can even adapt to the extraordinarily short delivery times you demand.
Each Rielli device reaches you with a user manual prepared specifically for the project. After installation, user training is given and certified by our technical team. The operation of your device, which is now yours, in line with your needs and wishes throughout its service life is guaranteed with tracking tables, online monitoring, and after-sales service. Our technical service serves any Rielli device installed anywhere in the world, whether in a remote village in Ethiopia or a resort hotel in the Philippines.
It provides the optimum solution with the projection software of different membrane manufacturers. We know how to use tradition and development in harmony while producing Rielli devices. Our engineering team consists of friends who have been with us for most of our journey. We can design and manufacture the reverse osmosis device that will be the most suitable for you in investment and operating expenses, thanks to these friends who use modern knowledge and years of experience in our company, and the software that we constantly update.
The corporate experience behind every Rielli device produced is over a quarter of a century old, but the experience behind Rielli is based on a family tradition that has been produced since 1955.
With financing opportunities suitable for you, it becomes an investment that starts to pay for itself from the very first day.
The first page of a Rielli MBBR device offer contains financial data. Thus, on the first page of our offer, you can see how the device we recommend is more economical than its counterparts, the initial investment and operating costs, the payback period of the investment, and many other financial data.
With financing options suitable for you such as purchasing, renting, or purchasing the produced water, your investment contributes positively to your cash flow from the very first day.
With the wastewater treated at recoverable quality, the Rielli MBBR facility becomes a source of income for your business, from being a cost center, where you can obtain water at more economical costs.
Produced with German Technology; We use MBBR Biochips whose quality and efficiency have been proven by many scientific data.
Our steady work for years has brought us together with the world's leading equipment brands. As a result, we are in a strategic relationship with a long-experienced German company for MBBR biochips. Our relationship as two institutions sharing production experience and the experience we transfer to each other also enables us to be the first to offer you the latest technology.
We work, design, and produce with a strong experience network.
With our corporate culture that gives importance not only to the customer but also to employee loyalty; We work, design, and produce with a focus on efficiency, with the strong experience and quality we have put forth together with our technicians and engineers with whom we have been working for many years.
You can contact us by using the form below for special solutions for your needs.